Welcome to Valley Covenant
Entering into new life in Jesus Christ!
Location
Valley Covenant Church is located in west Eugene at the intersection of West 18th Avenue and Bailey Hill Road.
Office Hours
Secretary: Tuesday and Friday: 9:30 a.m. - 1:30 p.m.
Pastor Steve is available at other times. Please call!

What's Happening?
All Saints Sunday - November 5
Thanksgiving Celebration & Meal - November 19
Joint bi-lingual service with Manantial de Vida
Potluck meal after worship - everyone welcome!
Advent Begins - December 3
Christmas Music and Children's Program
December 10 at 6 p.m.
Sunday School
9:30 a.m. on Sunday mornings
Beginner class for age 3 to kindergarten
Elementary class for grades 1-5
Adult class on the Psalms
Adult class on mission in India
This past Sunday's sermon:
November 19, 2017 "Trusted with Talents" – Matthew 25:14-30
Matthew 25:14-30 "Trusted with Talents" November 19, 2017 – Twenty-fourth Sunday after Pentecost What talents do you have? Can you play guitar or the drums? Are you good at math? Can you tell a great story? Are you an excellent cook? Do you build houses or sew clothes or just listen really well to your […]
Trusted with Talents

November 15, 2017

Though it is often unrecognized in these times, the Bible has deeply influenced our culture and language, including even what our words mean. This Sunday's text from Matthew 25:14-30 is a prime example. The parable's use of the Greek word … Continue reading →

In or Out?

November 8, 2017

Exclusion is not a very popular topic, at least in the Christian circles in which I typically go round. Exclusiveness, so we imagine, characterizes those nasty fake Christians of the alt-right or at Westboro Baptist Church, but not us gentle, … Continue reading →

Pure Hope

November 1, 2017

There's nothing like pregnancy to make a woman want to get in shape. At least as far as I understand it, the news that there is a new precious little life inside one's body transforms your priorities. Ideally, all other … Continue reading →
Upcoming Events
November 24, 2017

November 26, 2017

November 27, 2017

November 28, 2017

November 29, 2017

Valley Covenant Singers - 7:00 pm, Wednesday, Nov 29
Details
Outreach
Local and Global Mission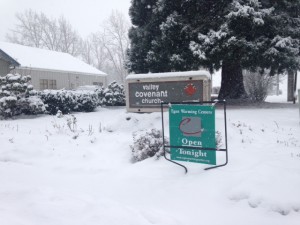 We join in several different shared ministries in our community and around the world. We are one of the original Egan Warming Center sites. We have hosted a week of Family Shelter for 25 years now. We are a Love INC partner church. And we support the ministry of the Eugene City Mission.
We join with other Covenant churches to send and support missionaries around the world as well as supporting a missionary from Valley Covenant. Our missions interest group meets monthly to pray for missionaries and to help keep our congregation informed about the work of the Lord in places like China and India.