Welcome to Valley Covenant
Entering into new life in Jesus Christ!
Location
Valley Covenant Church is located in west Eugene at the intersection of West 18th Avenue and Bailey Hill Road.
Office Hours
Secretary: Tuesday and Friday: 9:30 a.m. - 1:30 p.m.
Pastor Steve is available at other times. Please call!

What's Happening?
Our Sunday morning schedule:
Holy Communion - 8:30 a.m.
Sunday School - 9:30 a.m.
Worship - 10:30 a.m.
Adult Sunday school will focus on our Immerse
Scripture readings from Genesis - Deuteronomy.
Ash Wednesday Worship: February 14 at 7:00 p.m.
Family Shelter Week: March 19-26

This past Sunday's sermon:
February 18, 2018 "Stop and Go" – Numbers 9:15-23
Numbers 9:15-23 "Stop and Go" February 18, 2018 – First Sunday in Lent Red lights flash ahead and you come to a stop. They go out and you creep forward. It's 5 p.m. on Beltline Road or on the Santa Monica Freeway where I grew up or on I-5 through Portland or on the Eisenhower […]
The Way

February 21, 2018

For at least a couple years in high school, I carried around a binder with a picture of Billy Graham pasted on the inside cover. As a young man with an at-the-time confused sense of calling to pastoral ministry, I … Continue reading →

Stop and Go

February 15, 2018

The Oregon Department of Transportation recently rolled out flashing orange arrows as a new form of traffic signal here in Eugene. Unfortunately, those signals are not accompanied by the helpful sign seen in this photo, which was apparently taken in … Continue reading →

Tabernacles

February 7, 2018

I've been puzzling over how to connect a text from our Immerse reading of the book of Leviticus this week with the upcoming Transfiguration Sunday text from Mark 9:2-9. It finally struck me that the connection is there in those … Continue reading →
Upcoming Events
February 23, 2018

February 25, 2018

February 26, 2018

February 27, 2018

February 28, 2018

Valley Covenant Singers - 7:00 pm, Wednesday, Feb 28
Details
Outreach
Local and Global Mission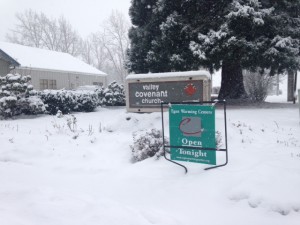 We join in several different shared ministries in our community and around the world. We are one of the original Egan Warming Center sites. We have hosted a week of Family Shelter for 25 years now. We are a Love INC partner church. And we support the ministry of the Eugene City Mission.
We join with other Covenant churches to send and support missionaries around the world as well as supporting a missionary from Valley Covenant. Our missions interest group meets monthly to pray for missionaries and to help keep our congregation informed about the work of the Lord in places like China and India.