Welcome to Valley Covenant
Entering into new life in Jesus Christ!
Location
Valley Covenant Church is located in west Eugene at the intersection of West 18th Avenue and Bailey Hill Road.
Office Hours
Secretary: Tuesday and Friday: 9:30 a.m. - 1:30 p.m.
Pastor Steve is available at other times. Please call!

What's Happening?
On December 31 there is no 8:30 service nor Sunday School
just our regular 10:30 worship service.

Our usual Sunday morning schedule resumes January 7:
Holy Communion - 8:30 a.m.
Sunday School - 9:30 a.m.
Worship - 10:30 a.m.
Week of Prayer December 31 - January 6
Healing Prayer Service January 6 at 6:30 p.m.
Adult Sunday school will focus on our Immerse
Scripture readings from Genesis - Deuteronomy.
This past Sunday's sermon:
January 14, 2018 "Brothers" – Genesis 4:1-16
Genesis 4:1-16 "Brothers" January 14, 2017 – Second Sunday after Epiphany In one of my wife's favorite moments in opera, the heroine Tosca stabs the evil Baron Scarpia, the Roman chief of police who has captured her and tortured her lover Mario. Scarpia has just agreed to release Mario and give them both safe passage […]
Brothers

January 10, 2018

I generally like to post images with these blog posts, either some contemporary image that connects with the Scripture text at hand or some classical painting or icon of the biblical story. As I looked for images of the first … Continue reading →

Glowing

January 3, 2018

Happy new year to everyone! This past Saturday, while I was home on a little vacation, we took our Christmas tree down to make room for the Epiphany open house we host each year. But our lights outside are still … Continue reading →

At Home

December 20, 2017

Beth and I have owned three houses over our marriage. Our first was in Nebraska and we had it for about 6 years. Our second was in Springfield when we came to Oregon and is where our daughters grew up. … Continue reading →
Upcoming Events
January 16, 2018

January 17, 2018

Valley Covenant Singers - 7:00 pm, Wednesday, Jan 17
Details

January 19, 2018

January 21, 2018

January 22, 2018
Outreach
Local and Global Mission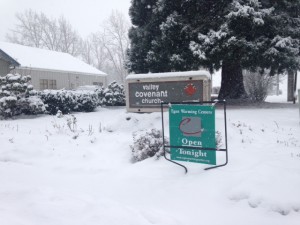 We join in several different shared ministries in our community and around the world. We are one of the original Egan Warming Center sites. We have hosted a week of Family Shelter for 25 years now. We are a Love INC partner church. And we support the ministry of the Eugene City Mission.
We join with other Covenant churches to send and support missionaries around the world as well as supporting a missionary from Valley Covenant. Our missions interest group meets monthly to pray for missionaries and to help keep our congregation informed about the work of the Lord in places like China and India.