Welcome to Valley Covenant
Entering into new life in Jesus Christ!
Location
Valley Covenant Church is located in west Eugene at the intersection of West 18th Avenue and Bailey Hill Road.
Office Hours
Secretary: Tuesday and Friday: 9:30 a.m. - 1:30 p.m.
Pastor Steve is available at other times. Please call!
What's Happening?
Summer Sunday Schedule begins June 5

9:30 a.m. Holy Communion

10:30 a.m. Worship

Sunday School does not meet in the summer.

During the school year, Adult Education topics have included:
Our Problems with God - a study in the Psalms
Christianity & Islam
A Study in the Book of James

Faith and Art
The Church Year
During the school year, we have held the following Children/Youth Classes
Infant/Preschool nursery
Early Elementary (K-2)
Upper Elementary (3-5)
Youth (Middle & High School)
This past Sunday's sermon:
August 28, 2016 "In Reverse" – Acts 9:1-22
Acts 9:1-22 "In Reverse" August 28, 2016 – Fifteenth Sunday after Pentecost What if Hitler had won? Is anyone here watching "The Man in the High Castle" on Amazon? It's an alternate history story based on a novel by Philip K. Dick, imagining what the world would be like if the Nazis and Imperial Japan […]
In Reverse

August 23, 2016

I'm not an aficionado of old automobiles, but one aspect of the Stanley Steamer has always fascinated me. It's not just that it was a relatively successful steam-powered car, but that because of its immense torque it didn't need any … Continue reading →

Seeker

August 17, 2016

I've never cared much for the "seeker-sensitive" model of worship and church life, from the time I first encountered it something like twenty-five years ago on a "field trip" to Willow Creek Community Church during one of our Covenant midwinter … Continue reading →

Simon Sins

August 10, 2016

It sounds like the new Harry Potter book is pretty disappointing. Unlike the main series which ended years ago, Beth and I did not rush out to buy the new volume. I was put off by the fact that it's … Continue reading →
Outreach
Local and Global Mission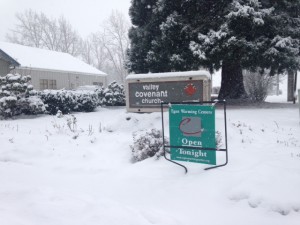 We join in several different shared ministries in our community and around the world. We are one of the original Egan Warming Center sites. We have hosted a week of Family Shelter for 25 years now. We are a Love INC partner church. And we support the ministry of the Eugene City Mission.
We join with other Covenant churches to send and support missionaries around the world as well as supporting a missionary from Valley Covenant. Our missions interest group meets monthly to pray for missionaries and to help keep our congregation informed about the work of the Lord in places like China and India.