Welcome to Valley Covenant
Entering into new life in Jesus Christ!
Location
Valley Covenant Church is located in west Eugene at the intersection of West 18th Avenue and Bailey Hill Road.
Office Hours
Secretary: Tuesday and Friday: 9:30 a.m. - 1:30 p.m.
Pastor Steve is available at other times. Please call!
What's Happening?
Christian Formation Opportunities:
Sunday School at 9:30 a.m.
Starting Sunday, January 15 two adult classes
will be offered:
A study of the Psalms, Marlon Fletchall
A look at Christian missions, various teachers
During the school year, the following Children/Youth Classes are available:
Infant/Preschool nursery
Early Elementary (K-2)
Upper Elementary (3-5)
Youth (Middle & High School)
This past Sunday's sermon:
January 22, 2017 "Non-Partisan" – I Corinthians 1:10-17
I  Corinthians 1:10-17 "Non-Partisan" January 22, 2017 – Third Sunday after Epiphany I went to an elementary school named after a comedian, Will Rogers Elementary in Santa Monica, California. When it came to politics, Rogers had lots to say, but he attributed that to the politicians themselves. He said, "There's no trick to being a […]
Non-Partisan

January 18, 2017

I've often heard people wish that the present-day Christian Church could be more like the Church was in the first century, right after the time of Christ and during the lifetimes of the apostles. My friend Jeff has the perfect … Continue reading →

Big Secret

January 4, 2017

Many years ago, my wife's fervent opposition to fashions in Christian theology and life which tended toward the ancient heresy of gnosticism won her the title "Gnostic Buster" from some on-line friends. At its heart, one of the key characteristics … Continue reading →

Unexpected Salvation

December 16, 2016

A copy of this painting by George de la Tour hangs in our home. It's a beautiful representation of the child Jesus holding a light for His father Joseph in the carpenter shop. I learned from the keen artistic eye … Continue reading →
Upcoming Events
January 23, 2017

Mom's in Prayer (Classroom #1 Unavailable) - 9:30 am, Monday, Jan 23
Details

January 24, 2017

January 25, 2017

Valley Covenant Singers - 7:00 pm, Wednesday, Jan 25
Details

January 26, 2017

Mom's in Prayer (Classroom #1 Unavailable) - 8:45 am, Thursday, Jan 26
Details

January 27, 2017

January 29, 2017
Outreach
Local and Global Mission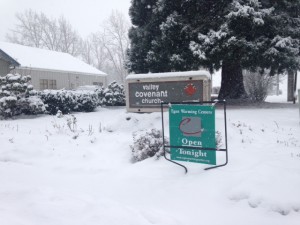 We join in several different shared ministries in our community and around the world. We are one of the original Egan Warming Center sites. We have hosted a week of Family Shelter for 25 years now. We are a Love INC partner church. And we support the ministry of the Eugene City Mission.
We join with other Covenant churches to send and support missionaries around the world as well as supporting a missionary from Valley Covenant. Our missions interest group meets monthly to pray for missionaries and to help keep our congregation informed about the work of the Lord in places like China and India.