Welcome to Valley Covenant
Entering into new life in Jesus Christ!
Location
Valley Covenant Church is located in west Eugene at the intersection of West 18th Avenue and Bailey Hill Road.
Office Hours
Secretary: Tuesday and Friday: 9:30 a.m. - 1:30 p.m.
Pastor Steve is available at other times. Please call!

What's Happening?
Sunday School Begins September 17
9:30 a.m. on Sunday mornings
Beginner class for age 3 to kindergarten
Elementary class for grades 1-5
Adult class on the Psalms
Adult class on "Hearing God" by Dallas Willard
This past Sunday's sermon:
September 17, 2017 "Family" – Matthew 18:21-35
Matthew 18:21-35 "Family" September 17, 2017 – Fifteenth Sunday after Pentecost How many of you have been deeply hurt by another member of your family? By a brother, sister, father, mother? Maybe a husband or wife? Some other extended family? My guess before I stood up here was that there would be a lot of […]
Walking with Jesus

September 20, 2017

I've been backpacking for fifty years. My first trip was with the Scouts to Kings Canyon National Park in 1967. The most recent trip, shown in the picture, was last month as a few of us from our church did … Continue reading →

Family

September 14, 2017

There was a little girl, Who had a little curl, Right in the middle of her forehead. When she was good She was very very good, And when she was bad she was horrid. Those lines are often thought to … Continue reading →

Common Ground

August 16, 2017

Nein! That was the essence and title of Karl Barth's reply in 1934 to an essay by Emil Brunner entitled Natural Theology. Barth and Brunner broke a long-standing friendship over the issue of whether there is any "natural" knowledge of … Continue reading →
Outreach
Local and Global Mission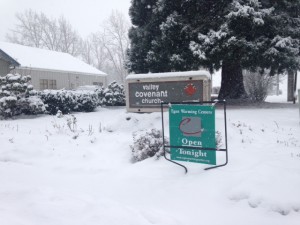 We join in several different shared ministries in our community and around the world. We are one of the original Egan Warming Center sites. We have hosted a week of Family Shelter for 25 years now. We are a Love INC partner church. And we support the ministry of the Eugene City Mission.
We join with other Covenant churches to send and support missionaries around the world as well as supporting a missionary from Valley Covenant. Our missions interest group meets monthly to pray for missionaries and to help keep our congregation informed about the work of the Lord in places like China and India.