Welcome to Valley Covenant
Entering into new life in Jesus Christ!
Location
Valley Covenant Church is located in west Eugene at the intersection of West 18th Avenue and Bailey Hill Road.
Office Hours
Secretary: Tuesday and Friday: 9:30 a.m. - 1:30 p.m.
Pastor Steve is available at other times. Please call!
What's Happening?
Advent Begins November 27 through December 18

8:30 a.m. Holy Communion

9:30 a.m. Sunday School
10:30 a.m. Worship

Children's Christmas Program December 13, 6 p.m.

Sunday School 9:30 a.m.

Adult Education for December 4, 11, 18: "Homeless in Eugene 101"
During the school year, the following Children/Youth Classes are available:
Infant/Preschool nursery
Early Elementary (K-2)
Upper Elementary (3-5)
Youth (Middle & High School)
This past Sunday's sermon:
November 27, 2016 "Unexpected Arrival" – Revelation 22:8-21
Revelation 22:8-21 "Unexpected Arrival" November 27, 2016 – First Sunday in Advent "You will be hanged next week at noon on a day you don't expect." So begins a famous puzzle. A judge sentences a prisoner to die during the next work week, but which day will be a surprise. When he hears the executioner's […]
Unexpected Warning

December 2, 2016

I'm waiting for an appointment with a dermatologist. Though it's probably more than any reader of this blog wishes to know, I've got a little pencil-eraser-size scab on my forehead that hasn't healed up in about five weeks. This past … Continue reading →

Unexpected Arrival

November 25, 2016

It's fitting that this coming Sunday, November 27, is both an ending and a beginning for our congregation. We come to the end of our reading of the New Testament together in the Covenant Community Bible Experience, and begin a … Continue reading →

Identity

November 2, 2016

At the risk of doing yet further violence to a rotting equestrian corpse, I recall the famous lines put in the mouth of the Statue of Liberty by Emma Lazarus and cast in bronze on a plaque inside that monument: … Continue reading →
Upcoming Events
December 3, 2016

VCC Women's Gathering - 10:00 am, Saturday, Dec 3
Details

December 4, 2016

December 5, 2016

Mom's in Prayer (Classroom #1 Unavailable) - 9:30 am, Monday, Dec 5
Details

December 6, 2016

December 7, 2016

Valley Covenant Singers - 7:00 pm, Wednesday, Dec 7
Details

December 8, 2016

December 9, 2016
Outreach
Local and Global Mission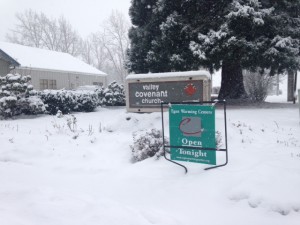 We join in several different shared ministries in our community and around the world. We are one of the original Egan Warming Center sites. We have hosted a week of Family Shelter for 25 years now. We are a Love INC partner church. And we support the ministry of the Eugene City Mission.
We join with other Covenant churches to send and support missionaries around the world as well as supporting a missionary from Valley Covenant. Our missions interest group meets monthly to pray for missionaries and to help keep our congregation informed about the work of the Lord in places like China and India.