Welcome to Valley Covenant
Entering into new life in Jesus Christ!
Location
Valley Covenant Church is located in west Eugene at the intersection of West 18th Avenue and Bailey Hill Road.
Office Hours
Secretary: Tuesday and Friday: 9:30 a.m. - 1:30 p.m.
Pastor Steve is available at other times. Please call!

What's Happening?
April 16 - Easter Worship w/Brunch & egg hunt
8:30 a.m. Holy Communion
9:30 a.m. Sunday School
10:30 a.m. Worship
Noon       Brunch & Easter egg hunt
Christian Formation Opportunities:
Sunday School at 9:30 a.m.
For Lent, starting March 5, two adult classes are offered:
A study of the Psalms, Marlon Fletchall
A Christian View of Grief, Bryan Kane
During the school year, the following Children/Youth Classes are available:
Infant/Preschool nursery
Early Elementary (K-2)
Upper Elementary (3-5)
Youth (Middle & High School)
This past Sunday's sermon:
April 30, 2017 "Walking" – Luke 24:13-35
Luke 24:13-35 "Walking" April 30, 2017 – Third Sunday of Easter Some of my best memories are walks. I've hiked with the Scouts in the Sierras, meandered around the twin lakes at Notre Dame with my wife-to-be, sweated up trails with my daughters in Arizona, and I still enjoy getting out to backpack with a […]
Walking

April 26, 2017

Some of my best memories involve walks. I vividly recall hiking with the Scouts in the Sierras, meandering around the twin lakes at Notre Dame with my wife-to-be, and watching my daughters take their first tottering steps. For most people … Continue reading →

Faith

April 20, 2017

This Caravaggio painting of doubting Thomas has become well-known thanks to the Internet, and I do like its graphic, realistic portrayal of the Lord's submission to Thomas's probing finger. However, a visually less realistic portrayal by de' Rossi may be … Continue reading →

No End, No Fear

April 13, 2017

This painting used to hang over our couch, a fitting piece for a couple of philosophers to display. It when was there many years ago when our oldest daughter was 3 years old. She looked up on it and asked, … Continue reading →
Upcoming Events
April 30, 2017

May 1, 2017

May 2, 2017

May 3, 2017

May 4, 2017

May 5, 2017

May 6, 2017

InterVarsity Training Event (Gathering Place) - 9:00 am, Saturday, May 6
Details
Outreach
Local and Global Mission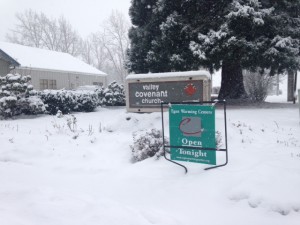 We join in several different shared ministries in our community and around the world. We are one of the original Egan Warming Center sites. We have hosted a week of Family Shelter for 25 years now. We are a Love INC partner church. And we support the ministry of the Eugene City Mission.
We join with other Covenant churches to send and support missionaries around the world as well as supporting a missionary from Valley Covenant. Our missions interest group meets monthly to pray for missionaries and to help keep our congregation informed about the work of the Lord in places like China and India.