Welcome to Valley Covenant
Entering into new life in Jesus Christ!
Location
Valley Covenant Church is located in west Eugene at the intersection of West 18th Avenue and Bailey Hill Road.
Office Hours
Secretary: Tuesday and Friday: 9:30 a.m. - 1:30 p.m.
Pastor Steve is available at other times. Please call!

What's Happening?
Church Backpack Trip - August 24-26
Indigo Lake
Fall BBQ and Kickoff - September 10
This past Sunday's sermon:
August 20, 2017 "Common Ground" – Acts 17:16-34
Acts 17:16-34 "Common Ground" August 20, 2017 – Eleventh Sunday after Pentecost If you visit Athens, Greece, one of the first things you may notice is the smog. It may be getting worse. A twenty-year ban on diesel vehicles in the city was lifted in 2012. More recently, economic hardship has caused the price of […]
Common Ground

August 16, 2017

Nein! That was the essence and title of Karl Barth's reply in 1934 to an essay by Emil Brunner entitled Natural Theology. Barth and Brunner broke a long-standing friendship over the issue of whether there is any "natural" knowledge of … Continue reading →

Noble Minds

August 9, 2017

Modern Veria (Veroia) in Greece, the site of ancient Berea (Beroea), was the home of one of the oldest continuously existing Jewish communities until the Nazi's deported all the Jewish quarter residents during World War II. An old stone 17th … Continue reading →

Jailer Goes Free

August 2, 2017

This picture is from our family's visit to ancient Philippi 15 years ago. It is of a crypt, probably a water cistern, mistakenly identified in the fifth century as the jail cell where Paul and Silas were held. It became … Continue reading →
Outreach
Local and Global Mission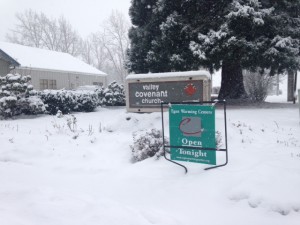 We join in several different shared ministries in our community and around the world. We are one of the original Egan Warming Center sites. We have hosted a week of Family Shelter for 25 years now. We are a Love INC partner church. And we support the ministry of the Eugene City Mission.
We join with other Covenant churches to send and support missionaries around the world as well as supporting a missionary from Valley Covenant. Our missions interest group meets monthly to pray for missionaries and to help keep our congregation informed about the work of the Lord in places like China and India.