Welcome to Valley Covenant
Entering into new life in Jesus Christ!
Location
Valley Covenant Church is located in west Eugene at the intersection of West 18th Avenue and Bailey Hill Road.
Office Hours
Secretary: Tuesday and Friday: 9:30 a.m. - 1:30 p.m.
Pastor Steve is available at other times. Please call!
What's Happening?
Fall Kick-Off September 11

9:30 a.m. Holy Communion

10:30 a.m. Bi-lingual Worship w/Manantial de Vida

12:15 p.m. Neighborhood BBQ, everyone welcome
Sunday School Begins September 18, 9:30 a.m.

Adult Education this fall will focus on the Community Bible Experience
One adult discussion group on Sunday mornings
Additional discussion groups throughout the week

During the school year, the following Children/Youth Classes are available:
Infant/Preschool nursery
Early Elementary (K-2)
Upper Elementary (3-5)
Youth (Middle & High School)
This past Sunday's sermon:
October 23, 2016 "Law or Faith?" – Galatians 3:1-14
Galatians 3:1-14 "Law or Faith?" October 23, 2016 – Twenty-third Sunday after Pentecost Emma Pole was bewitched by a fairy. That's the first development of Susanna Clarke's massive fantasy novel Jonathan Strange and Mr. Norrell. Beth and I recently watched the BBC television series adaptation which brought to the screen Emma's dismay at being resurrected […]
Law or Faith?

October 19, 2016

"E-ticket ride" was an expression that could be applied to a fine wave when surfing, a good movie, or any other experience that was top-notch fun and entertainment. It came from the old ticket system at Disneyland which assigned different … Continue reading →

Our Brand

October 13, 2016

Thanks to Steven Larson on our Covenant Ministerium Facebook group, I was able to locate this hilarious send-up of church leaders discussing a new name for their congregation. It's only slightly more absurd than reality as the people of Jesus … Continue reading →

Within Or…?

October 5, 2016

Raising children in the 90s meant for us that the cartoon "Arthur" got watched at our house. However, my wife always rightly objected to the theme song played at the beginning of each show. After starting out pretty well, advising … Continue reading →
Outreach
Local and Global Mission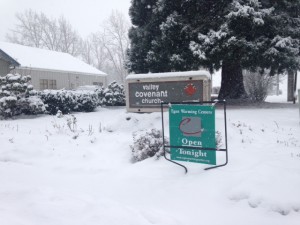 We join in several different shared ministries in our community and around the world. We are one of the original Egan Warming Center sites. We have hosted a week of Family Shelter for 25 years now. We are a Love INC partner church. And we support the ministry of the Eugene City Mission.
We join with other Covenant churches to send and support missionaries around the world as well as supporting a missionary from Valley Covenant. Our missions interest group meets monthly to pray for missionaries and to help keep our congregation informed about the work of the Lord in places like China and India.