Welcome to Valley Covenant
Entering into new life in Jesus Christ!
Location
Valley Covenant Church is located in west Eugene at the intersection of West 18th Avenue and Bailey Hill Road.
Office Hours
Secretary: Tuesday and Friday: 9:30 a.m. - 1:30 p.m.
Pastor Steve is available at other times. Please call!

What's Happening?
Sunday School Begins September 17
9:30 a.m. on Sunday mornings
Beginner class for age 3 to kindergarten
Elementary class for grades 1-5
Adult class on the Psalms
Adult class on "Hearing God" by Dallas Willard
This past Sunday's sermon:
October 15, 2017 "In the World" – Matthew 22:1-14
Matthew 22:1-14 "In the World" October 15, 2017 – Nineteenth Sunday after Pentecost We didn't show up for Dave's wedding. My friend Jay and I were invited. We planned a crazy long car trip from Indiana to Texas, driving all night and day. But we decided it was too long and too expensive and gave […]
In His Hand

October 18, 2017

A day's wages for an ordinary laborer in Jesus' time was a single coin, a Roman coin called a denarius. It was small, about the size of a dime, but thicker and heavier and made of silver. The common word … Continue reading →

In the World

October 12, 2017

A novel I was recently reading began with the account of a twelve-year-old boy's birthday party. He had invited several "friends" from school, but none of them showed up. He wept bitterly on his mother's lap wondering why they had … Continue reading →

In the Valley

October 5, 2017

Our Willamette Valley here in Oregon has long been the scene of agriculture. It's the heartland of grass seed culture. Driving along I-5 yesterday, my wife and I enjoyed looking at the sheep grazing on green fields. And as everyone … Continue reading →
Upcoming Events
October 21, 2017

Fall Work Day - 9:00 am, Saturday, Oct 21
Details

October 22, 2017

October 23, 2017

October 24, 2017

Iglesia de Christo Manantial de Vida Worship Practice (Sanctuary) - 7:15 pm, Tuesday, Oct 24
Details

October 25, 2017

Valley Covenant Singers - 7:00 pm, Wednesday, Oct 25
Details

October 26, 2017

Love INC Employee Appreciation Dinner - 4:00 pm, Thursday, Oct 26
Details

October 27, 2017
Outreach
Local and Global Mission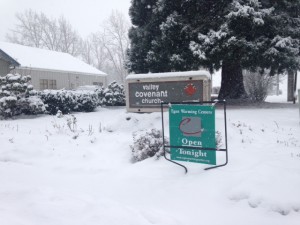 We join in several different shared ministries in our community and around the world. We are one of the original Egan Warming Center sites. We have hosted a week of Family Shelter for 25 years now. We are a Love INC partner church. And we support the ministry of the Eugene City Mission.
We join with other Covenant churches to send and support missionaries around the world as well as supporting a missionary from Valley Covenant. Our missions interest group meets monthly to pray for missionaries and to help keep our congregation informed about the work of the Lord in places like China and India.