Welcome to Valley Covenant
Entering into new life in Jesus Christ!
Location
Valley Covenant Church is located in west Eugene at the intersection of West 18th Avenue and Bailey Hill Road.
Office Hours
Secretary: Tuesday and Friday: 9:30 a.m. - 1:30 p.m.
Pastor Steve is available at other times. Please call!
What's Happening?
Summer Sunday Schedule begins June 5

9:30 a.m. Holy Communion

10:30 a.m. Worship

Sunday School does not meet in the summer.

During the school year, Adult Education topics have included:
Our Problems with God - a study in the Psalms
Christianity & Islam
A Study in the Book of James

Faith and Art
The Church Year
During the school year, we have held the following Children/Youth Classes
Infant/Preschool nursery
Early Elementary (K-2)
Upper Elementary (3-5)
Youth (Middle & High School)
This past Sunday's sermon:
July 24, 2016 "Unstoppable" – Acts 5:17-42
Acts 5:17-42 "Unstoppable" July 24, 2016 – Tenth Sunday after Pentecost A train full of toxic chemicals roars down the track with no one aboard. That's the story of the 2010 Tony Scott/Denzel Washington film Unstoppable. It's also the true story of CSX 8888, a freight train known as "Crazy Eights." It got loose in […]
Unstoppable

July 20, 2016

I haven't read Nick Vujicic's book Unstoppable: The Incredible Power of Faith in Action, the self-told story of a man born with no arms or legs. As a Christian he managed to overcome that monumental burden, become a motivational speaker, … Continue reading →

Fooling Whom?

July 13, 2016

I find this week's lesson from Acts 4:32 – 5:11 pretty scary. Like the story of Simon in a few weeks, it demonstrates the danger of approaching spiritual life from wrong motives and for duplicitous reasons. Almost as scary as … Continue reading →

Claim the Name

July 6, 2016

Ursula Le Guin is no friend of Christianity. Yet when one of my daughters recently mentioned her account of dragons in A Wizard of Earthsea, I remembered how one aspect of Le Guin's Earthsea fantasies touched my imagination. She suggests … Continue reading →
Outreach
Local and Global Mission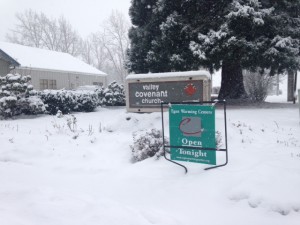 We join in several different shared ministries in our community and around the world. We are one of the original Egan Warming Center sites. We have hosted a week of Family Shelter for 25 years now. We are a Love INC partner church. And we support the ministry of the Eugene City Mission.
We join with other Covenant churches to send and support missionaries around the world as well as supporting a missionary from Valley Covenant. Our missions interest group meets monthly to pray for missionaries and to help keep our congregation informed about the work of the Lord in places like China and India.