Welcome to Valley Covenant
Entering into new life in Jesus Christ!
Location
Valley Covenant Church is located in west Eugene at the intersection of West 18th Avenue and Bailey Hill Road.
Office Hours
Secretary: Tuesday and Friday: 9:30 a.m. - 1:30 p.m.
Pastor Steve is available at other times. Please call!

What's Happening?
April 16 - Easter Worship w/Brunch & egg hunt
8:30 a.m. Holy Communion
9:30 a.m. Sunday School
10:30 a.m. Worship
Noon       Brunch & Easter egg hunt
Christian Formation Opportunities:
Sunday School at 9:30 a.m.
For Lent, starting March 5, two adult classes are offered:
A study of the Psalms, Marlon Fletchall
A Christian View of Grief, Bryan Kane
During the school year, the following Children/Youth Classes are available:
Infant/Preschool nursery
Early Elementary (K-2)
Upper Elementary (3-5)
Youth (Middle & High School)
This past Sunday's sermon:
June 11, 2017 "Initiation" – Matthew 28:16-20
Matthew 28:16-20 "Initiation" June 11, 2017 – Trinity Sunday On Saturday our friend Isaiah is going to be pinned. That's the traditional ceremony welcoming new graduates of nursing school into the profession. I wish I could be there, because it brings back memories of my mother conducting that ceremony for the nursing program she ran […]
Into Community

June 7, 2017

We sent the new boy over to the next camp to borrow a "bacon stretcher." That was a typical "initiation" prank for our Boy Scout troop in my early teens. Happily, we had excellent adult leaders who prevented most of … Continue reading →

On Us All

June 1, 2017

I was always jealous of Bobby. His father owned the hobby shop in our town. In junior high, Bobby always had the coolest stuff: model rockets, a remote controlled airplane, ham radio gear, even a huge, wonderful, sparking Tesla coil … Continue reading →

Stepped On

May 24, 2017

One might describe much of the political ferment in our country and the world as an expression of the desire not to get "stepped on." Whether it is poor whites enraged over declining wages and employment opportunities or people of … Continue reading →
Upcoming Events
June 28, 2017

Bible Study/Sermon Discussion with Pastor Steve - 7:00 pm, Wednesday, Jun 28
Details

June 30, 2017

July 2, 2017

July 4, 2017
Outreach
Local and Global Mission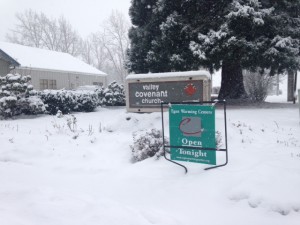 We join in several different shared ministries in our community and around the world. We are one of the original Egan Warming Center sites. We have hosted a week of Family Shelter for 25 years now. We are a Love INC partner church. And we support the ministry of the Eugene City Mission.
We join with other Covenant churches to send and support missionaries around the world as well as supporting a missionary from Valley Covenant. Our missions interest group meets monthly to pray for missionaries and to help keep our congregation informed about the work of the Lord in places like China and India.