Welcome to Valley Covenant
Entering into new life in Jesus Christ!
Location
Valley Covenant Church is located in west Eugene at the intersection of West 18th Avenue and Bailey Hill Road.
Office Hours
Secretary: Tuesday and Friday: 9:30 a.m. - 1:30 p.m.
Pastor Steve is available at other times. Please call!
What's Happening?
Christian Formation Opportunities:
Sunday School at 9:30 a.m.
For Lent, starting March 5, two adult classes are offered:
A study of the Psalms, Marlon Fletchall
A Christian View of Grief, Bryan Kane
During the school year, the following Children/Youth Classes are available:
Infant/Preschool nursery
Early Elementary (K-2)
Upper Elementary (3-5)
Youth (Middle & High School)
This past Sunday's sermon:
March 19, 2017 "Security" – Matthew 6:25-34
Matthew 6:25-34 "Security" March 19, 2017 – Third Sunday in Lent Was Jesus practical? What I just read for us may seem to you about as far from practical reality as you can get. His words sound like lovely images and beautiful ideals. But He is not really telling it like it is about our […]
Security

March 15, 2017

Security is a pretty hefty value in today's world. In America there seems to be a strong sense that we have lost some of the security we enjoyed in the best, whether economic or social or military, and that it … Continue reading →

Faith and Money

March 9, 2017

It's commonplace to hear preachers and Bible teachers say that Jesus talked about money more than any other single subject. Here's a quote from an on-line collection of sermon illustrations that tries to address it statistically, without claiming that Jesus' … Continue reading →

Stuff We Want

March 1, 2017

Martin Luther once threw an inkwell at the devil as the tempter disturbed his work translating the Bible into German while he was in what we might call "protective custody" at Wartburg Castle. But that inkwell story is merely a … Continue reading →
Upcoming Events
March 24, 2017

March 26, 2017

March 27, 2017

Mom's in Prayer (Classroom #1 Unavailable) - 9:30 am, Monday, Mar 27
Details

March 28, 2017

March 29, 2017

Valley Covenant Singers - 7:00 pm, Wednesday, Mar 29
Details

March 30, 2017

Mom's in Prayer (Classroom #1 Unavailable) - 8:45 am, Thursday, Mar 30
Details
Outreach
Local and Global Mission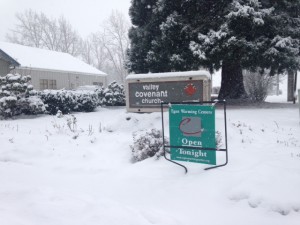 We join in several different shared ministries in our community and around the world. We are one of the original Egan Warming Center sites. We have hosted a week of Family Shelter for 25 years now. We are a Love INC partner church. And we support the ministry of the Eugene City Mission.
We join with other Covenant churches to send and support missionaries around the world as well as supporting a missionary from Valley Covenant. Our missions interest group meets monthly to pray for missionaries and to help keep our congregation informed about the work of the Lord in places like China and India.