Welcome to Valley Covenant
Entering into new life in Jesus Christ!
Location
Valley Covenant Church is located in west Eugene at the intersection of West 18th Avenue and Bailey Hill Road.
Office Hours
Secretary: Tuesday and Friday: 9:30 a.m. - 1:30 p.m.
Pastor Steve is available at other times. Please call!

What's Happening?
Church Camping Trip - July 28-30
Black Canyon Campground
Services at Valley Covenant as usual
Church Backpack Trip - August 24-26
Indigo Lake
Fall BBQ and Kickoff - September 10
This past Sunday's sermon:
July 16, 2017 "Gravity or Grace?" – Acts 15:1-21
Acts 15:1-21 "Gravity or Grace?" July 16, 2017 – Sixth Sunday after Pentecost "Please sir, I want some more." Many of you remember that pitiful request as the words of tiny Oliver Twist in Dickens' novel of the same name. Standing with empty bowl in hand Oliver looks up at the huge master of the […]
Partings and Partners

July 19, 2017

As I consider this week's text for the next episode of Acts in our summer study of that book, Acts 15:36 – 16:5, it occurs to me that one might account for the dispute between Barnabas and Paul in terms … Continue reading →

Gravity or Grace?

July 12, 2017

"So I saw in my dream, that just as Christian came up with the cross, his burden loosed from off his shoulders, and fell off his back, and began to tumble, and so continued to do till it came to … Continue reading →

Gods among Us

July 6, 2017

Paul and Barnabas experienced an honor that political leaders of their time coveted and which some politicians might still like to have today. In Lystra, they were hailed as gods after they healed a lame man. Barnabas, perhaps the bigger … Continue reading →
Upcoming Events
July 21, 2017

July 23, 2017

July 25, 2017
Outreach
Local and Global Mission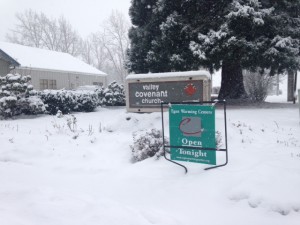 We join in several different shared ministries in our community and around the world. We are one of the original Egan Warming Center sites. We have hosted a week of Family Shelter for 25 years now. We are a Love INC partner church. And we support the ministry of the Eugene City Mission.
We join with other Covenant churches to send and support missionaries around the world as well as supporting a missionary from Valley Covenant. Our missions interest group meets monthly to pray for missionaries and to help keep our congregation informed about the work of the Lord in places like China and India.