Jesus said, "Let the little children come to me." We believe Him. We have the following ministries to and for kids:
Sunday School
Meets throughout the school year at 9:30 a.m. We have a class for every age. Our excellent Sunday School teachers show children the love of Jesus in God's Word and in their own hearts and lives.
Children's Choir for Christmas
In the fall, children age 4 up to middle and high school students are invited to join in a choir rehearsing for our Christmas pageant in December.
Nursery Care for the little ones
Children through age 2 have a place of their own during both worship and Sunday School. Our nursery volunteers are loving and conscientious. We are not stuffy, however, and parents are welcome to have infants or small children in worship with them if they choose.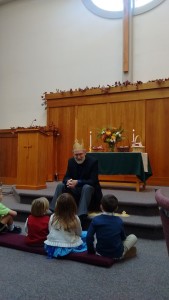 A Children's Message in worship
Pastor Steve brings the morning worship theme to the kids using objects and words they can understand. Surprises are expected during this time!
Children's Church during the second half of worship
Children age 3 through grade 3 have the opportunity for their own worship experience during the scripture and sermon portions of our main worship. They hear a Bible story, sing, and make crafts in a relaxed, kid-friendly atmosphere.